Veneers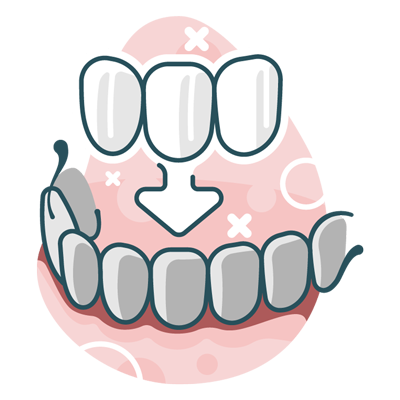 Champion Family Dental features a broad array of dental solutions. We want to be sure that we can meet the needs of you and all your loved ones when it comes to dentistry. With so much available at one location, you're certain to find what you're looking for.
If you're unhappy with the appearance of your smile, the solutions you're looking for are available within cosmetic dentistry. One such option is getting dental veneers. With dental veneers applied to your teeth, you can show off that picture-perfect smile.
What Is a Veneer?
A veneer is a thin porcelain shell that goes over your tooth to improve the aesthetics of your smile or protect a tooth from being damaged. It changes the shape or appearance of your teeth, covering discolouration, gaps and other imperfections in your teeth.
You can see what your smile would look like with veneers applied before you commit to getting them. We'll take moulds of your teeth, then send this information not the laboratory so they can do a mockup of your new smile. You can try it on and walk around for a few hours with the veneers on to test drive them out. Small adjustments can be made as needed.
Once you're happy with it, we'll prepare your teeth to receive veneers and have the laboratory make your permanent set. You'll wear a temporary set of veneers until these arrive at our clinic. Then, you'll have a follow-up to get your permanent veneers cemented on your teeth.
Are there other alternatives to getting veneers?

There may be other options to help you achieve the look you want. For example, if you have a large filling in a tooth, it's better to have a crown placed on top of it than to have a veneer. A crown will give the tooth greater strength, which is necessary when a large filling is present. A tooth that is extremely dark may not be masked with a veneer. In such a case, we can explore an option such as tooth whitening. We'll discuss what's most appropriate for you at your consultation.
My teeth are crooked. Can I still have veneers applied?

Teeth that are severely misaligned may not be able to have veneers applied. There are, however, still options for you. Braces may be an effective choice to straighten out your teeth. If you still aren't happy with the way they appear, you may be able to have veneers applied after the maximum results are achieved with your braces treatment.
How long will my veneers last?

The longevity of your veneers depends heavily on how you treat them. For example, you should refrain from chewing ice, opening packaging with your teeth or anything else that could damage these thin porcelain shells. With the proper care, veneers can last for 10-15 years.
Do I need to brush my veneers, since they're not real teeth?

Veneers are not real teeth. You should, however, treat them as such. That's because if you didn't brush them carefully, the gums around the veneer wouldn't be properly cared for. The veneer also isn't applied to the back of the tooth; it's only on the front. Therefore, you still need to brush the back area of the tooth and the veneer itself, ensuring that you get the gum and tooth that surrounds the veneer.
Get Started Today
We believe that everyone loves to deserve their smile. Contact our team now to book your consultation for veneers Armadale! Convenient Saturday hours are available.
CONTACT US »

Veneers Armadale WA | 08 9497 2588