Sedation Dentistry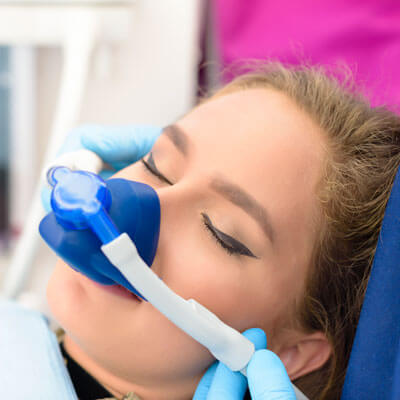 At Champion Family Dental, our team offers a full range of services. With years of experience, we can handle the majority of dental concerns in our clinic. Whether you want to have a more beautiful smile, need a filling or require a simple checkup, know that we can take care of you.
Intravenous Sedation and General Anaesthetic
If you think about the dentist and start to become nervous, you may be putting off your treatment. Some people have gone years without seeing a dentist due to the anxiety they feel when they consider coming in for an appointment.
The options we provide include intravenous (IV) sedation and general anaesthetic. IV sedation is also called twilight sedation. During this process, you will come into the clinic and have our dentist who is a qualified anaesthetist deliver the sedation intravenously. With general anaesthetic, you'll be in hospital for your treatment.
You won't feel anything during your treatment under general anaesthetic; it will be as if you're sleeping. You'll wake up with no memory of what has been done.
FAQ
Is there anyone who can't have sedation dentistry?
Yes. If you have compromised health or other certain conditions, sedation may not be appropriate for you. If needed, our dentist can liaise with your medical doctor to check whether sedation is suitable.
Can children have sedation dentistry?
Children can have dental services performed under general anaesthetic only. Intravenous (IV) sedation is not appropriate for children. If you are interested in having your child's dental care done under general anaesthetic, you must first meet with our anaesthetist to determine that your child is a suitable candidate.
I need multiple procedures completed but would like to have it done as quickly as possible. Is sedation dentistry a good option for me?
Provided that you are a candidate and sedation isn't contraindicated in any way, sedation may be an ideal choice for you. While you are sedated, you can complete multiple dental procedures without having to make several appointments and have your treatment stretched out over time.
Yes. We accept health funds and you don't have to wait to claim your rebate. We have a HICAPS machine on-site so that you can pay only the gap. We are preferred providers with HBF, Medibank, HCF and CBHS.
How do I know if sedation dentistry is a good option for me?
We recommend sedation dentistry in a few different cases. For example, if you feel anxious when you think about the dentist or have a phobia of visiting a dental clinic, sedation may be a good option for you. It's also appropriate for people who want to complete more than one service at once. If you don't want to wait and space out your treatments over time, sedation dentistry can enable you to complete multiple procedures in one sitting.
Convenient Appointment Times
We know how busy and hectic life can get. To better suit your needs, we have multiple dentists on staff that offer a range of hours. These include appointments available on Saturdays. If you'd like to get in right away, same-day visits are offered. Emergency cases are welcome, though you don't need to be in an acute situation to get in on the day. Contact us today!
CONTACT US »

Sedation Dentistry Armadale WA | 08 9497 2588