Dentures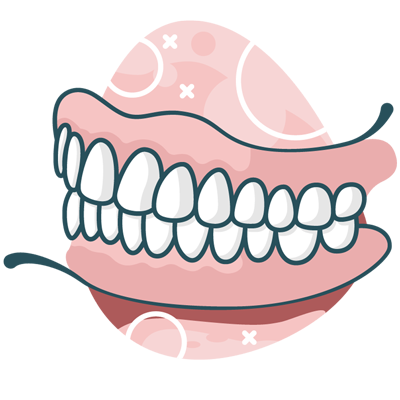 Are you missing teeth? If so, you probably have felt your self-esteem take a hit. You may feel like you want to hide your smile or avoid talking to people. A set of gorgeous, modern dentures can restore your confidence and let you enjoy all the foods you love again. The team at Champion Family Dental will help you create a beautiful set of dentures that looks perfectly natural and is comfortable to wear.
A denture is appropriate for people who are missing several teeth or all teeth in their mouth. You can choose from metal or plastic materials for your denture depending on your situation and budget.
What to Expect When Getting a Denture
Getting a denture typically involves having a couple of appointments at our clinic. First, we'll take a mould of your upper and lower jaws and make records of your bite. You'll choose the colour and shape of the teeth in your denture. We'll check for the fit and aesthetics, then send this information to our laboratory to have your denture created.
A couple of weeks later, you'll return for a follow-up and try your denture on. We'll make sure you're comfortable with it and go over all instructions on how to use it and take care of it. Though it can take some time to get used to, we want to ensure that you can eat, smile and speak with ease while wearing your denture.
Our team provides full dentures and partial dentures. A full denture is what you probably picture when you think of a denture. It is a set of two dentures, one that goes on the upper gums and one that covers the lower gums. A full denture replaces all of the teeth in your mouth.
A partial denture, as the name indicates, is appropriate for people who have some healthy teeth left in their mouth. You don't want to extract teeth that are still viable. A partial denture will leave spaces where these teeth existing, working around them. You won't be able to tell the difference between your natural teeth and those on the denture.
We're pleased to offer immediate dentures. Immediate dentures are appropriate for situations where you need to have your front teeth extracted but don't want to be without those teeth. We'll get the denture ready before performing your extraction. After the procedure, the denture can be placed immediately so that you don't have to go without your essential teeth.
Damage to dentures can easily occur. If you drop them or have another form of trauma occur to your denture, you may require a repair. You can have these done on the day in our office.
Over time, you may find that the shape of your gums change. If so, your dentures will need to be adjusted. We perform relining services to make sure that your dentures always fit you snugly and comfortably.
I have a partial denture. How do I keep my teeth and denture clean?

You'll need to take a two-pronged approach to your oral hygiene routines. One involves brushing your existing teeth that remain in your mouth carefully. You should do so twice per day to make sure they stay healthy. Then, you'll also need to clean your partial denture each day.
Do I need to remove my denture regularly?

Yes. We recommend that you clean it at night, letting your gums breathe overnight. You'll soak your dentures in a container, having them cleaned while you sleep.
Will I need a full denture or partial denture?

Your denture type will depend on whether you have viable teeth left in your mouth. At your evaluation, we'll examine them to ensure they should be left in your mouth. If they need to be extracted, we can do so in the clinic.
Call Today
Contact our team now to schedule your consultation for dentures Armadale! Your health fund rebate can be claimed on the spot with our HICAPS machine.
CONTACT US »

Dentures Armadale WA | 08 9497 2588