Crowns and Bridges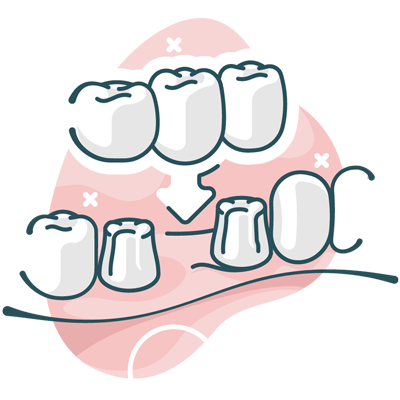 Over your lifetime, your oral health can change. It's not always easy to keep your teeth and gums in great shape. When you need a little extra help, there are many options open to you. At Champion Family Dental, two of the most popular restorative services are crowns and bridges. With a high-quality crown or bridge, your smile will retain its beauty and you'll be able to enjoy the full function of your teeth.
Dental Crowns Cover Your Teeth
You can think of a crown as a protective covering. It goes over your tooth to ensure that no damage can occur. It will improve the aesthetics of your smile and make the tooth stronger and more stable. Crowns can be made from different materials including porcelain or porcelain mixed with metal, depending on which tooth is receiving the crown.
You may need a crown because a tooth has been compromised due to decay or trauma. If you have a large filling in the tooth, a crown can be a good idea to prevent breakage, fracture or the filling falling out.
Dental Bridges Fill Gaps Where Teeth Are Missing
Are you missing one tooth or multiple teeth in a row? You can restore your smile with a dental bridge. A bridge is three or more crowns joined together. This row of crowns is attached on either side of the gap that exists, with the middle crowns hanging into the space.
When you have a dental bridge, proper oral hygiene is of utmost importance. You need to floss under and around it, keeping it extremely clean. When you brush your teeth, be sure you brush carefully around the bridge, too.
FAQ
Does it hurt to have a crown or bridge done?
Do you have sedation dentistry available?
Are there alternatives to having a dental crown?
Are there alternatives to having a dental bridge?

Crowns and Bridges Armadale WA | 08 9497 2588