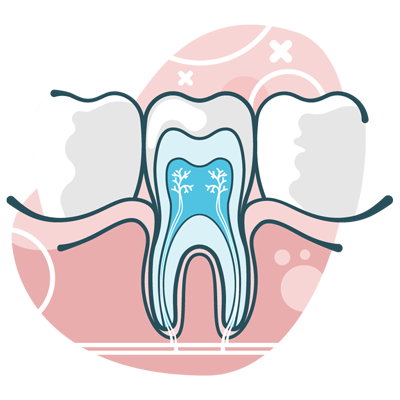 Root Canal Treatment
Oral health concerns can happen suddenly without warning. Others may come on after years of a decline in the health of your teeth and gums. No matter what the source is, you can feel confident you'll get the care you need at Champion Family Dental. Problems in your teeth may be related to having an infection in the tooth. If so, a root canal may be the best option to restore your oral health.
When a Root Canal Is Needed
Root canals are required if you have a tooth that has a large amount of decay, crack, a big filling or has been subjected to trauma. When this occurs, there is a space created that bacteria can move into. The nerve in the tooth dies off. Your symptoms may include
A constant throbbing
Facial swelling
Pain that comes and goes
Pain when biting or chewing
Pus around the gums
Sensitivity to hot and cold that lingers
Swelling around the gums
Toothache
Trouble sleeping due to pain
Please note that you may experience no symptoms whatsoever. That's why you must attend biyearly checkups. At these appointments, we can catch any problems that could later necessitate a root canal. In doing so, you can avoid costlier, more complex treatment in the future.
A root canal takes place over several appointments, typically totaling three unless you have a more complex case that requires more treatments. The first step is to come in for some testing and an X-ray, which will confirm that you need a root canal. Once diagnosed, we can begin with treatment.
You'll be numbed using a local anaesthetic. A rubber dam will be used to isolate your tooth and prevent other areas from becoming contaminated.. Then, the decay will be removed. Your tooth will be cleaned out, shaped and have medications placed on it in the form of antibiotics. You'll receive a temporary filling that is left in place for 3-4 weeks while your tooth disinfects itself.
When you come in again, we'll clean the tooth area and change the medication, then seal the tooth again and let the medication go to work a second time. At your third appointment, which is usually your last, we'll remove the temporary filling and put in a permanent one. Typically, you'll have a dental crown placed on top of that filling to prevent the tooth from fracturing in the future.
I've had a negative experience at the dentist before. How will you help me through my procedure?

It can help tremendously to talk through your concerns with a member of our team. We understand you may have experienced pain or confusion at the dentist before. We'll discuss it with you and explain each step of your procedure. If you're concerned about pain, sedation options are available.
Does a root canal hurt?

In years past, a root canal was often associated with great pain. Today's dentistry allows for a comfortable procedure. We'll be gentle during your procedure and make sure you are fully numbed before we get started.
Do I need to take any aftercare measures following my root canal?

There will be different pieces of advice we give you following each stage of the process in getting a root canal. You'll be fully informed on everything you need to do for a quick recovery.
Do you have sedation options available?
Yes. We can provide
intravenous sedation or general anaethesia
. IV sedation is completed in our clinic by a qualified dentist. General anaesthesia is done in hospital. You'll wake up from your procedure with no memory of what has transpired. It's particularly effective for people who need multiple procedures done at one time.
Is sedation helpful for people with dental anxiety?

Yes. Sedation dentistry is used most often for a couple of different situations. One is for those who haven't gotten the dental attention they need for years and require several procedures, which can be done at once. The other is for people who feel nervous about dental care or who have a phobia of going to the dentist. Sedation is an effective option for both situations.
Call Now
Contact our practice today to schedule your consultation for a root canal Armadale! Same-day visits are available.
CONTACT US »

Root Canal Treatment Armadale WA | 08 9497 2588