Emergency Dentistry
The team at Champion Family Dental provides a full suite of dental services to you and your family. We want to be there for you when you need us, offering all the solutions you need to restore and maintain your oral health. In the case of a dental emergency, we know they can happen at any time.
To get you out of pain, we endeavour to offer same-day treatments for emergencies. It's as simple as giving us a call, and we'll work you into our schedule straightaway.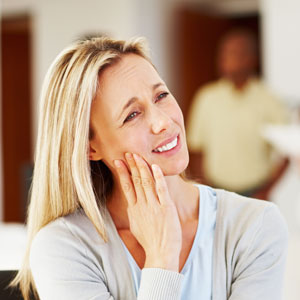 The Many Types of Dental Emergencies
You may not know if what you're experiencing qualifies as a dental emergency. Some of the most common that we see include
Abscesses
Broken fillings or veneers
Broken teeth
Chipped teeth
Facial swelling
Sensitive teeth
Tooth pain
Trauma
There are certainly emergencies that aren't included here. If you think that you may have a dental emergency, contact our clinic directly.
When you come in for your appointment, you'll see a dentist to get an examination and have your problem diagnosed. We'll discuss all possible treatment options with you. It's important that you make your own decisions about your dental care, and we won't pressure you in any direction. Then, we'll proceed with treatment according to your wishes.
If you have an infected tooth, you may require a root canal or an extraction depending on the severity of the infection. If you have a high level of pain or inflammation, we may need to prescribe antibiotics for you, then bring you back for an appointment to have treatment after the area has calmed down.
If your emergency treatment is covered by the government, you are usually referred to a government dentist. In certain situations, however, these dentists are unable to see you and will refer you elsewhere. We can accept your government subsidy form to have emergency treatment done.
I think I'm having a dental emergency, but I'm not certain. What should I do?
When in doubt, call us. There is no reason not to do so. If you're not having an emergency, that's only good news. But if you are having one and don't get treatment, you can end up with serious pain and a more expensive dental bill further down the road. Always err on the side of caution and don't hesitate to contact us.
I had a tooth fall out. What should I do?

Lost teeth are a common form of dental emergency. They can happen from any type of trauma to the mouth. Recover the tooth if possible and place it in a cup of milk. Come to our clinic as quickly as you can so that we can try to replant the tooth in your mouth.
How do I remove something that's lodged between my teeth?
Whether it's a piece of food or an object, having something stuck in your teeth can be uncomfortable or painful and downright unsightly. Before seeking assistance at the dentist's office, there are some things you can try at home.
You may be able to dislodge the object using dental floss. Never, however, use a sharp object to try to remove it. You could end up damaging your gums or teeth. If you're unable to dislodge the object using dental floss, then you should see a dentist soon. If you leave the object in your teeth, bacteria can flourish, which could lead to disease or cavities.

What should I do if I lose a filling?
From time to time, tooth fillings can come loose. You should contact your dentist straightaway. There are a few things that can help you out until you get in for care. You can buy dental cement at most pharmacies. This material is used to close the gap and protect your tooth pulp from damage.
If you can't find dental cement, sugar-free gum is an effective alternative. Always, however, be sure to avoid using gum that contains sugar. It's important to remember that these solutions are only short-term fixes; only a dentist can replace the filling for optimal protection.

Are there ways to prevent dental emergencies from occurring?
Yes! The most important thing you can do is keep your teeth in a healthy state, making them less prone to injury. For example, stringent brushing and flossing will mean that you are less likely to have decay or an infection in the tooth.
There are other measures to consider, too. Custom-made mouthguards are available at our practice that will protect your teeth, gums, jaw, head and neck from injury during sport. They're appropriate for kids and adults alike.

Is there anything I can do at home to alleviate a toothache?
You can rinse your mouth with warm saltwater and apply sensitive toothpaste to the affected area. You also can take an over-the-counter pain reliever.
Call Now
Contact our team today to book a time for emergency dental care Armadale! We process your health fund rebate on-site with our HICAPS machine.
CONTACT US »

Emergency Dentistry Armadale WA | 08 9497 2588