Gum Disease Treatment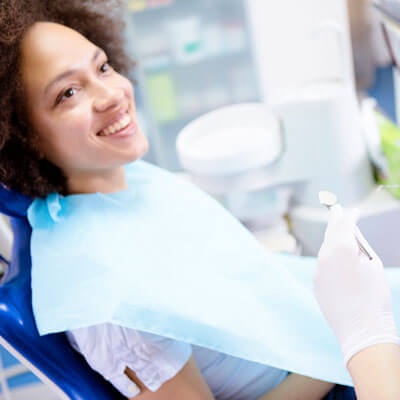 The team at Champion Family Dental offers a full range of services to help you keep your smile healthy. If it's been some time since you've been to the dentist, your oral health may not be in the best shape. Rest assured that we're not here to judge. We're just here to help you. If your gum health has been compromised, you can find the assistance you need with us.
Some of the signs that you may have gum disease include
Bleeding gums
Gums that are sore to the touch
A buildup around the gumline
Teeth that move
Pain when biting
Swelling in the gums
Persistent bad breath
There are two stages of gum disease. Gingivitis is the first, which is completely reversible. The later stage is what's called gum disease or periodontal disease. It cannot be reversed, but instead must be managed.
At your appointment, we'll determine which stage of gum disease you have. You'll be given a thorough cleaning to remove all plaque and buildup. Then, you'll be educated on the proper home hygiene routines so that your condition doesn't worsen.
Gum disease must be properly managed. The biggest issue is that you won't know you have it until it is at a severe level. That's why it's essential that you have regular checkups with us, allowing your gum health to be monitored before it becomes seriously compromised.
Why is gum health so important?

You can think of your gums as the foundation that your teeth can rest on. Without healthy gums, you risk losing your teeth and facing pain, an inability to chew and even difficulty speaking.
Do you work with periodontists?

Yes. If your gum disease has advanced to a severe level, we may refer you to a periodontist for an appointment. Once it has been taken care of, you can come back to us to maintain your results with periodic appointments.
What is the easiest way to prevent gum disease?

There are three powerful tools in the fight against gum disease: brushing, flossing and having checkup and clean appointments every six months. Brushing and flossing can be handled at home. At your checkup and clean visits with us, we look at every area of your gums to make sure they're in good shape and remove any buildup that has gathered around the gumline.
How should I take care of my gums?

Brushing and flossing aren't only about your teeth. When you brush your teeth, you should also be brushing your entire gum area. Flossing, too, reaches the areas of gums between teeth that your brush can't get to. If you note a problem, be sure to reach out straightaway and schedule an appointment with our dental team.
Do you clean my gums at my checkup appointments?

Yes! It's not just your teeth that are cleaned when you have a checkup and clean visit with our team. We also remove all buildup from your gums. If we find any potential issues with your gum health, we'll inform you immediately so that you can decide what action you'd like to take.
Your Payment Options
There are several coverage options that you can use at our office. We accept the following:
HBF, Medibank, HCF & CBHS (preferred providers)
Child Dental Benefit Scheme (CDBS)
Metropolitan Subsidy Patients Scheme
Department of Veteran's Affairs cover
Get the attention you need today for gum disease Armadale or any of our other many services. Call our team now!
CONTACT US »

Gum Disease Treatment Armadale WA | 08 9497 2588