Fillings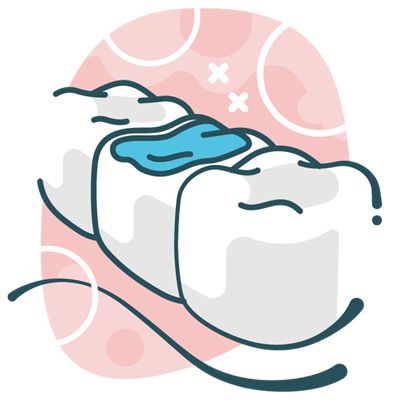 At Champion Family Dental, our experienced team provides a full range of services to cover your dental needs. Children and adults alike can commonly experience tooth decay. Though you may be careful to brush and floss, decay can still set in. The food and drinks we consume are a tremendous factor in determining whether we have tooth decay.
When sugar or starches are consumed, the bacteria in our mouth feed on these substances, turning them into acids. The acids are what will eventually eat away at our teeth, causing a hole called a cavity. If you have a cavity, a dental filling is an effective way to ensure the decay doesn't spread.
When a Filling Is Required
There may be signs that you need a filling, but it's important to note that you might have no symptoms at all and still require a filling. The signs you can notice include
A visible dark spot on the tooth
Tooth sensitivity
Part of the tooth that is missing
A trauma that left a tooth broken or chipped
An old filling that has fallen out
In all of these cases, we can apply a filling to restore the strength and health to your tooth. You will be able to enjoy your favorite foods and live without pain.
Your need for a filling is often identified at your checkup and clean appointments. During these appointments, we inspect each individual tooth. If we identify that you require a filling, we will generally be able to proceed with treatment immediately. If time does not allow, however, you can always schedule back for a follow-up.
When we get started, the first step is to numb the area around the tooth in question. We'll start only once you agree that you can't feel anything. Then, we'll remove all the decay from the teeth. This step is vital to ensure that it can't spread. If the cavity is extremely deep, we can apply medication to the area. The next step is to have the filling material applied. Generally, we use a white composite material that can't be noticed from your regular teeth. The filling is then adjusted to be in the proper shape and the tooth polished.
We also have amalgam fillings available. In certain cases, these fillings can be advantageous. If that applies to your situation, we'll discuss it with you when we consult about your need for a filling.
Are there alternatives to getting a filling?
Yes. If the filling is extremely large, it may be a wise idea to have a porcelain crown placed on the tooth instead. We'll go over all possible options with you at your consultation so that you can choose how you would like to proceed.
What will I feel like after the procedure?
After you get a filling, you may have some temporary post-operative sensitivity. You might feel that the area surrounding the filling is affected by the local anaesthetic, which is completely normal.
Is there pain involved in getting a filling?
We take every measure to ensure that the area is fully numbed before we proceed with giving you a filling. We'll check with you to be certain that you don't feel anything, making sure you're comfortable the entire time.
How much will it cost to get a filling?
It depends on the material we use and the size of your filling. Before your procedure, we will let you know the cost, so there are no surprises.
How long will my filling last?
Contrary to what you may have been told, fillings don't last forever. A filling typically lasts from 3-7 years on average. However, it needs to be examined by a dentist regularly to make sure it's still holding up well. If you notice any discolouration, darkening or chipping underneath the filling, contact your dentist and schedule to see them straightaway. These signs could indicate that there's a breakdown of the filling and that a replacement is needed.
How will the dentist choose my child's filling?
Many factors lead to a dentist's choice of filling material. These include the location of the cavity and what part of the tooth it's in, the age of your child, their dental history and durability considerations related to your child's age and activities in which they engage.
Call Today
Contact our team now to book a consultation for fillings Armadale! Health fund rebates can be claimed on-site with our HICAPS machine.
CONTACT US »

Fillings Armadale WA | 08 9497 2588