Children's Dentistry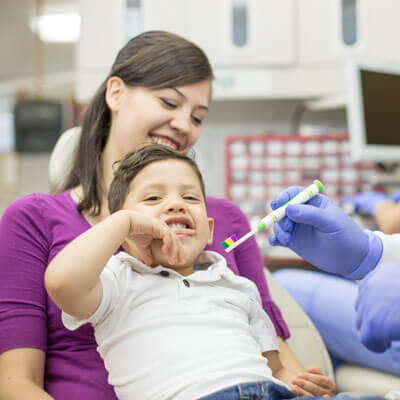 As you can tell from our name, Champion Family Dental is a family-friendly place. You and all your loved ones can receive the quality services you need from our team. Children, too, are welcome at our practice. Though not every dental clinic sees children, we're pleased to start them off on a healthy path early in life.
What to Expect At Your Child's First Appointment
It's important that your child's appointments with us are fun. Our approachable team ensures that your kids can enjoy going to the dentist instead of dreading it as too many adults do. We'll role-play a bit with them, inviting them to participate in their care with measures like counting their teeth or showing them our tools and their X-ray images. Their examination will be more like playing than anything serious and clinical.
They can even sit on Mum or Dad's lap during this process so that they stay comfortable and at ease. We'll never push them to do anything they don't want to do. If we identify the need for further treatment, we'll discuss that with you.
Your children may require different dental solutions. Some that we offer most often to our pediatric patients include

Fissure sealants
Fluoride treatment

If your child requires any of these, we'll be sure to let you know after their examination so that you can make a decision before any further treatment is done.
Treatment Under General Anaesthesia Is Available
Our dentists are pleased to offer general anaesthesia. It is administered in hospital. If your child requires extensive procedures or has a phobia of going to the dentist, general anaesthesia may be an ideal option to help them complete the dental care they need.
At what age should my child begin seeing the dentist?

Your child will begin having regular checkup and cleans from about age 2. We encourage you to bring them along on an older sibling's dental appointment with us at any time so that they can become familiar with our environment and staff members.
How often does my child need to have dental appointments?

Just like adults, children should have checkup and cleans every six months. At these appointments, we can identify any potential issues before they become bigger, costlier and more painful to deal with, making them essential to your child's oral health.
Will you teach my child about good oral hygiene?

Yes. Education is part of the process at every visit your child has with us. They'll learn the proper brushing techniques, how to floss and why both are important to them. With our teaching, they'll be experts in preserving their own oral health.
The Child Dental Benefits Schedule, or CBDS, is a programme that covers part or all of costs involved in the dental care of eligible children. Your family must receive a payment such as Family Tax Benefit A to qualify. Other eligibility includes being between ages 2-17 and receiving Medicare. Under this programme, the following dental services are covered:

Check-ups
Cleaning
Extractions
Fillings
Fissure sealants
Root canals
X-rays
Call Now
Call or email our team today to schedule an appointment for children's dental care Armadale! Emergency cases are welcome.
CONTACT US »

Children's Dentistry Armadale WA | 08 9497 2588