Teeth Whitening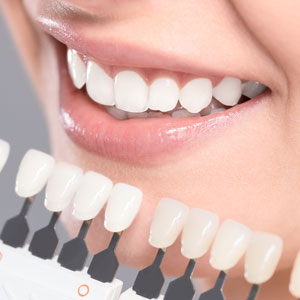 When you look at your smile in the mirror, how do you feel about it? We think that you deserve to love the way your teeth appear. If you're unhappy with them, a much-needed boost of your self-confidence can be gained from a simple solution like teeth whitening. When your teeth are brighter, you'll be excited to show off your gorgeous smile.
Getting Started With Teeth Whitening
When you come in for a checkup and clean, we'll evaluate you to make sure you're a candidate for whitening. If you are, we'll take an impression of your top and bottom teeth. From these impressions, we can create customised trays that are comfortable for you to wear. We'll tell you exactly how to use your kit and what you can expect afterwards. If you require more whitening solution in the future, you can purchase it directly from us and keep using your customised trays.
There are two types of stains on your teeth. The first is extrinsic. This type of stain results from the intake of coffee, tea, red wine, certain medications or from tobacco use. Intrinsic stains occur inside the tooth. These cannot be whitened. Instead, intrinsic stains can be covered up by other options; for example, with dental veneers.
How long will the results of my whitening last?

Typically, you can count on your teeth looking brighter for about six months. This is greatly affected, however, by your oral hygiene routines and how much coffee or tea you drink. Be sure to brush and floss regularly with the proper techniques. Consider reducing your intake of staining beverages. With both of these considerations, your whitening may last longer.
When can I whiten my teeth again?

When you come in for your regular checkup and cleans, you can get some more whitening solution. It's important to have these regular evaluations as teeth whitening should only be done on teeth that are healthy. In some cases, it's necessary to embark on other treatment such as getting a filling before you can begin your teeth whitening process.
Is it safe to whiten my teeth?

When you are a candidate for whitening and purchase a professional-grade kit from a qualified dentist, it is perfectly safe to whiten your teeth. We will make sure that it is suitable for you before setting you up with your whitening kit.
Will my teeth be sensitive after they've been whitened?

Some people report experiencing some teeth sensitivity after whitening. Any such effects should be temporary, diminishing within a few days. If it goes on for longer, please contact us straightaway.
Can my discolouration be removed with teeth whitening?

There are many types of stains that can be removed with teeth whitening. These include darkening from coffee, tea, tobacco use and more. Teeth whitening does not work, however, on restorations. That means if you have veneers, a dental crown or a dental bridge, these will not be affected by teeth whitening.
What if I need more than teeth whitening to get the results I want?

Commonly, people like to have teeth whitening done in conjunction with other services. This is often referred to as a smile makeover. For example, you may be missing teeth and have others that are discoloured. Your missing teeth can be replaced with a dental implant or dental bridge. The remaining natural teeth you have can be brightened with teeth whitening. We will tailor your dental plan to your needs and wants, ensuring you're thrilled with your results.
Convenient Opening Hours
We're here for you on Saturdays and have same-day visits available. Contact us now to book your consultation for teeth whitening Armadale!
CONTACT US »

Teeth Whitening Armadale WA | 08 9497 2588