Mouthguards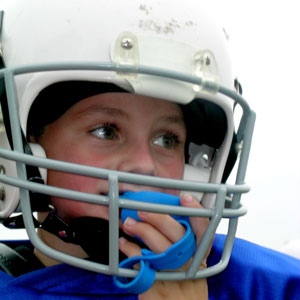 At Champion Family Dental, we provide the dental care you need from an experienced, caring team. Our clinic offers a broad array of services to suit your needs. If you are active in sport, an injury is likely to happen at some point. You want to protect yourself as much as possible. To prevent an injury to your teeth, gums, cheeks, jaws, head and neck, you should consider getting a customised mouthguard. We're pleased to provide mouthguards in your choice of colours that fits you perfectly.
Why You Need a Professional-Grade Mouthguard
When you go to a dentist to have your mouthguard created, it will be custom-fitted to you. There are kits you can buy at the chemist to make your own mouthguard. There are several disadvantages to these, though. You may not get an accurate impression of your bite. Furthermore, it won't fit as snugly as our mouthguards. If it's not as snug, it won't offer the same level of protection as a professional mouthguard.
We'll invite you to come in for a checkup at a time that works well for you. We'll check for decay or any other issues present. If it's your child that we're making a mouthguard for, we will examine their adult teeth that are developing and look at any areas where baby teeth are missing.
A mould is taken of your teeth, then sent to the laboratory. In 1-2 weeks, your mouthguard will arrive at our practice. You can pick it up and start wearing it immediately.
Do health funds cover mouthguards?

Some health funds have coverage for mouthguards. We recommend that you check with your individual plan. If you have cover for your mouthguard, you can claim your rebate on the spot with our HICAPS machine.
How often does my child need to replace their mouthguard?

If your child requires a mouthguard for their sport, they may need to get a new one each year until all their adult teeth have grown in. Their mouth is developing at a rapid pace, and this growth means they might grow out of their mouthguard with some regularity until all their adult teeth are present.
What are the advantages of having a dentist create my mouthguard?

When you get a professional-grade mouthguard, there are several advantages. It is comfortable and won't feel as bulky in your mouth. You'll be able to drink water and speak while wearing your mouthguard. It won't dislodge when you're talking or being active.
If I participate in a certain sport, do I need a mouthguard?

There are some types of sport that necessitate wearing a mouthguard. If any sort of contact is made in your activity, you should wear a mouthguard. It should be worn during both practices and matches, anytime there is a risk of a collision or trauma.
Do I need to have a checkup to get a mouthguard?

It is not required that you come in for a checkup to get a mouthguard. We do, however, recommend that you schedule for a checkup and clean first. In having these appointments periodically, you can ensure that you won't need more complex and costly treatments in the future.
Which health funds do you accept?

All health funds are accepted. Your rebate can be claimed on the day through our HICAPS machine. We are preferred providers with the following companies: HBF, Medibank, HCF and CBHS.
Convenient Appointment Times
Would you like to get in immediately? Contact us now to book a same-day appointment. Saturday hours are available for mouthguards Armadale and any of our other many services.
CONTACT US »

Mouthguards Armadale WA | 08 9497 2588