Dental Implants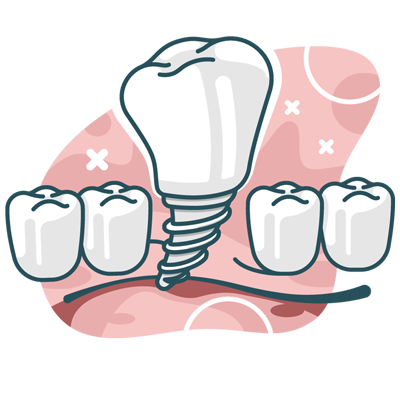 At Champion Family Dental, you have access to a broad array of dental solutions. Through each stage of life, we are equipped with the skills and techniques to take great care of you and your loved ones. If you are missing one tooth, multiple teeth or all of your teeth, you may want to explore the option of dental implants.
Dental implants are fast becoming the gold standard of treatment when it comes to tooth replacement. All around the world, people love this revolutionary choice that looks fantastic and works just like a regular tooth.
Why Dental Implants Are a Great Choice
A dental implant takes the place of a tooth, filling in an existing gap in your smile. The many advantages of choosing a dental implant include that it is
Natural-looking
Easy to care for
Long-lasting
Functions like a regular tooth
Furthermore, getting a dental implant doesn't involve any damage to the teeth on either side of the gap. If you have teeth in your mouth, you won't have to compromise their health in order to get a dental implant. You can think of it as an extremely conservative option for tooth replacement.
The procedure of getting a dental implant begins by having a consultation. During this appointment, we can make sure that you are a good candidate for a dental implant. The process usually takes place over two appointments. At the first, you'll be numbed with local anaesthetic so you don't feel anything. We'll have planned out your procedure before starting so everything goes smoothly.
The dental implant is placed in your jaw. Then, a couple of months will be allowed to pass so that your jawbone grows around the new implant, fusing it into place.
At your second appointment, you can have the restoration placed on top of your implant, which can be a crown, bridge or denture.
Am I a candidate for a dental implant?
A dental implant is a great option for anyone who has lost a tooth or multiple teeth. In some cases, there is not enough bone material in the jaw to hold the implant. That is one of few contraindications for getting a dental implant.
What if I don't have enough bone material in my jaw?
Not having enough bone to hold the implant in your jaw doesn't mean that you can't get a dental implant. It may, however, be necessary to have a bone graft procedure before you can move forward with the process of getting a dental implant.
Will my dental implant be noticeable?
No. We colour-match the restoration on top of your implant, whether you have a dental crown, dental bridge or denture attached to it. It will fit seamlessly in with your existing teeth.
Does it hurt to get a dental implant?
We utilise local anaesthetic to make sure you're comfortable during the procedure. You'll be awake but unable to feel much. We'll only proceed with the process once you agree that you are fully numbed.
Do you have sedation options available?
Yes! Our sedation options include intravenous sedation and general anaesthesia, which is done in hospital by our dentists. If you are interested in sedation dentistry, just give us a call to discuss your needs.
How much will my dental implants cost?
As no two patients or their customised dental implants precisely alike, the cost will vary, as will the number of appointments needed and the procedures performed. Therefore, based on your unique needs, we will give you an estimate of your treatment plan, so there are no surprises.
Are dental implants safe?
Dental implants, which have been used for approximately half a century, are considered to be highly safe and effective. As is the case with any medical procedure, however, some complications may arise. Selecting a knowledgeable, highly trained implant dentist like Dr Moody will help minimise complications and handle any potential issues, should they arise.
You and your dentist will go over your health history and any habits that could affect the success of your implants. For example, if you smoke, you may not be a candidate for implants. Rest assured that you will be fully informed about the benefits and potential risks involved.
How do I take care of my dental implants?
As dental implants represent a significant investment, it's crucial that you take excellent care of them. Doing so can help them last for decades, if not a lifetime. You care for your implants as you do your natural teeth. Brush, floss and visit your dentist for regular cleanings and checkups.
Call Now
Did you know that we have Saturday hours? Contact our team today to book your appointment for dental implants Armadale!
CONTACT US »

Dental Implants Armadale WA | 08 9497 2588